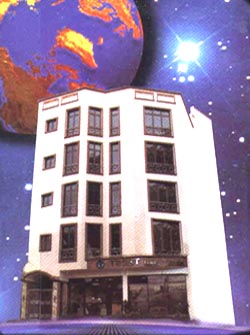 Trade Membership

Member of Travel Agents' Association of
Sri Lanka (TAASL)

Member of Marketing Development
Programme (MDP)

Member of Association of Licenced
Foreign Employment Agencies
(ALFEA)

Member of Sri Lanka - Malaysia Business
Council (SLMBC)




Speed and Effectiveness

Our selection process involves advertising, shortlisting, interviewing and evaluating
from a wide range of prospective candidates.
Our data base is comprehensive and is well catalogued. We carry out the whole
process expeditiously to the fullest
satisfaction of our clients and interviews
are conducted in plush Board Rooms.


Hotel and Catering Industry

Managers, Restaurant Managers, Chefs,
Chief Cooks, Pastry Cooks, Arabic/ Western/Eastern Cooks, Butchers,
Stewards, Catering Labourers/Cleaners,
House Keepers etc.




Maintenance, Cleaning Industry

Air conditioning Technicians,
Electronic Technicians, Plumbers,
Electricians, Carpenters,
Janitorial Supervisors, Labourers etc.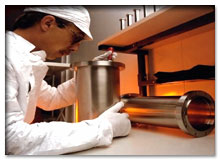 Hospital Service Industry

Nurses, Laboratory Technicians,
Dietitians, Pharmacists, Physiotherapists, Attendants etc.


Automobile Garage

Foremen, Diesel/Petrol Mechanics,
Denters, Spray Painters,
Auto Electricians, Wheel Balancers,
Tyre Repairmen, Helpers etc.


Transport Industry

Transport Foremen, Trailer-Drivers,
Light/Heavy Vehicle Drivers,
Heavy Equipment Operators etc.






Garment Industry

Factory Managers,
Production Managers, Quality Controllers, Merchandisers, Supervisors,
Machine Operators, Ironers, Helpers etc.
National Awards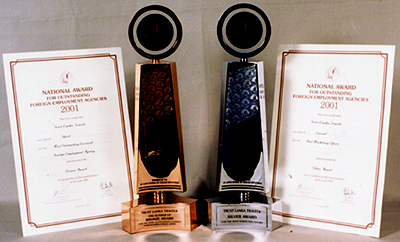 "TRUST LANKA TRAVELS'" was awarded the "National Awards for the Year 2001" as the best Outstanding Foreign Employment Agency as well as the best Marketing Efforts in Sri Lanka by the Sri Lanka Bureau of Foreign Employment where the Minister of Employment and Labour Hon. MAHINDA SAMARASINGHE had been the Chief Guest. This is the first time such an Award Ceremony was held and "Trust Lanka Travels" was successful in winning National Awards of prestige and recognition for the services that "Trust Lanka Travels" has rendered in the Foreign Employment sector.
Our Clients
Petro Chemical refineries.
Mechanical and Civil Construction companies.
Cleaning and Maintenance companies.
Hotels and Catering organisations.
Clearing and Forwarding companies.
Stevedoring companies.
Cement plants.
Transport companies.
Garment factories.
Shops and Offices.
Travels and Tour Operators.
Beverage & Confectionery outfits.


Overseas Recruitment

The recruitment policy of the Company is to seek the most suitable person for the job by means of advertising and calling for applicants even from the Indian sub continent. However, the bulk of the
recruits are from Sri Lanka, a country with a high rate of literacy in the South Asian Region.







Where we are now

Currently, the Organisation has bloomed into a formidable Establishment, having given birth to several viable and vibrant subsidiary companies catering to the global market. Now the Organisation occupies a top slot as a foremost recruiting Agency, in the Country, duly registered with the Sri Lanka Foreign Employment Bureau under Labour Licence No 623.




Range of Recruitment

Professionals

Engineers, Project Managers, Finance Managers, Catering Managers, Administration/Personnel Managers, Consultants, Marketing Personnel etc.

Construction Industry

Supervisors, Architects, Foremen, Draughtsmen, Quantity surveyors, Masons, Carpenters, Plumbers, Labourers etc.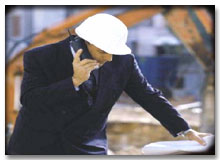 Computer Industry

Programmers, Systems Analysts, Data Entry Operators etc.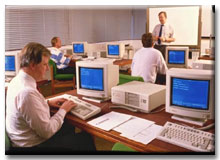 Agricultural, Farm and Gardening

Agriculturists, Horticulturists, Veterinarians, Soil Test Planners, Gardening Supervisors, Gardeners etc.


Shipping & Marine Industry

Masters, Marine Engineers, Oilers, Boiler Operators, AB Seamen etc.





Domestic Sector

Housemaids, Nannies, Babysitters, Family Drivers,
Driver-Maid Couples, House Cooks,
House Boys etc.